The Leading Edge - March 2023
Wednesday, April 19

Henderson Conference Room, Franklin College
Join Us for Series Reveal,
Stakeholders Breakfast
Have you ever considered sponsoring something for LJC? Maybe, you were too afraid to ask how much it might cost to be a sponsor. LJC has sponsorships starting at $250 and going up to $5,000 +. We will explain all of the sponsorship levels at our Series Reveal and Stakeholders Breakfast on April 19 from 7:30 a.m. to 9 a.m. in the Henderson Conference Room at Franklin College.
Not interested in sponsoring – no problem! We will also be revealing what LJC Select Workshops we are offering in the 2023-2024 lineup. Plus, there is always a special deal on the Punch Cards offered at the breakfast.
Our punch cards typically cost $500 and provide you with 14 punches. Each half-day LJC Select workshop uses one punch per person, bringing your cost per person per workshop to just over $35 instead of the standard price of $59 per workshop. You can share the punch card with others on your team or bring more than one person to a workshop. It is versatile and up to you how to use it.
The breakfast is free and there is no obligation to purchase.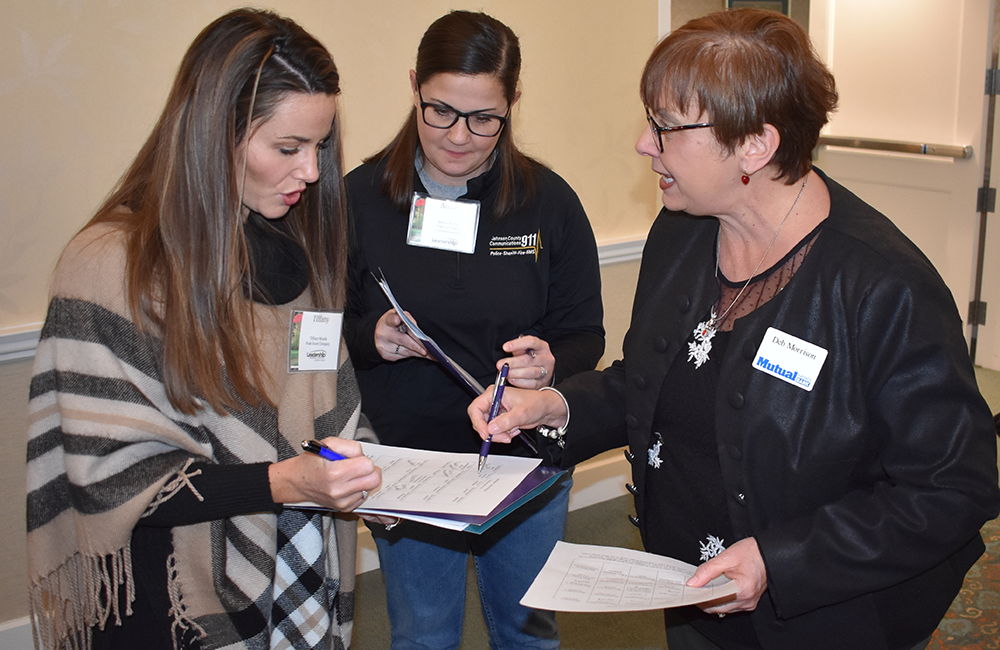 Maki Lingenfelter
Senior Human Resources Generalist at NSK Precision America
Family: Joshua (husband for 19 years), Owen (stepson, 24), Ren (son, 13), Nozomi (daughter, 11), Charlie (dog, 20!)
What is your favorite LJC moment or lesson to date? Collaboration activity (Building Squares): It reminded us of many lessons, and the most enlightening lesson to me was to "Be willing to give away pieces and have faith that what you need will come back to you."
What is the number one skill you practice that makes you successful? Focusing and taking time to work on projects, reports and responses instead of rushing through. By presenting my work with more accurate information, I make myself more reliable and responsible.
What movie are you looking forward to seeing and why? Avatar movies, both 1 and 2, are very heartwarming and extremely emotional at the same time. They are lengthy, but you don't feel like that. They capture various real traits of human beings' behaviors/attitudes into the avatar's world. People and avatars work together towards common goals; however, others also fight against each other. Such dynamic movies, and I can't wait for the next three movies that are being worked on!
Something on your bucket list: I'd love to visit and see Grand Canyon and Yellowstone.
When have you been most satisfied in your life? It was when I earned Graduate Certificate in Human Resources through Purdue in May 2021. It still takes me a much longer time to read materials and write papers in English, and it was not easy, but I pushed myself to work hard to keep my grades on A's. It gave me a great sense of accomplishment in doing so. Of course, I couldn't have done this without my husband's support in taking care of everything for the family!
So, Maki, what's your story? I am Japanese. I was born and raised in Japan until I was 17. With my father's assignment at NSK, we (my parents, my brother and I) moved to the United States in 1995. Although I had graduated from high school in Japan just prior to coming to the United States, I attended Center Grove High School for 1.5 years recommended by my father. Thankful that he suggested and that I listened to him because my English conversation and listening skills improved immensely during that 1.5 years! Then, I attended Butler University majoring in Music, International Studies and Spanish. That's where I met my husband of now 19 years. There were about three years I had gone back to Japan after graduating from Butler; however, I returned to the US on a fiancée visa and got married to my husband. Due to the policy Japan and the U.S. have, I would not be able to have dual citizenship. I would lose my Japanese citizenship if I became a citizen of the United States; therefore, I have not gained citizenship yet. I'd love to, but I am scared to lose my Japanese citizenship because I "feel like" I will lose my memories and everything I learned and experienced in Japan for 20 years; it's a big chunk of my life. One thing everyone asks me is if my kids speak in Japanese... They don't speak Japanese because I didn't try hard to push myself to talk to them in Japanese when they were little, which I forever regret! However, what's making me so happy now is my husband and my kids are all on Duolingo to learn Japanese every single day!! They may not be fluent at this time, but they are willing to learn the language, and that's what makes them better than being forced to practice, and I'm there for any questions and explanations.

Dena Mayes-Marietta
Marketing & Events Manager for Duke Companies (Duke Homes, Duke Commercial, Duke Renovations and Aberdeen Community)
Family: 19-year-old son Ayden who is a freshman at Ivy Tech and will transfer to IUPUI as a Junior in Digital Broadcasting. He should finish Ivy Tech in May 2024. Ron Marks, fiancé, who is a Battalion Chief with IFD and on Indy Car's Safety Team. We are getting married on September 9.
What is your favorite LJC moment or lesson to date? The first day of the retreat I enjoyed the activities outdoors working on team building.
What or who inspires you? My fellow mothers who have children with disabilities or challenges. Seeing them down in the trenches doing everything they can to help their children be the best version of themselves that they can be is SO inspiring and has made my journey with my son Ayden easier. My son was diagnosed with high-functioning autism at 2 1/2 with a bleak prognosis for independence and has far surpassed anything I initially expected. Being surrounded by other mothers who were facing similar challenges and who also refused to give up or give in to the "professional opinion" of doctors that limited what their children might accomplish has been a huge inspiration to me.
Favorite Quote? In regards to my son Ayden: "If you live to be 100, I want to live to be 100 minus one day, so I would never have to live without you." - Winnie the Pooh
Hobbies and interests outside of work: I LOVE to travel overseas! I am adventurous and not afraid to travel solo or with my son. I took myself to New Zealand (alone) for my 50th birthday, drove around the countries of Ireland and Scotland (with my son), and traveled the Danube River from Budapest, Hungary to Passau, Germany with my fiancé. This September we are taking a trip for our honeymoon to Italy, Greece, Crete and Turkey and are planning another river cruise from France to Switzerland. Luckily, he loves to travel as much as I do, so I always have a travel partner!
Name of a local business you utilize personally or professionally that provides an outstanding service: Our Table American Bistro - fantastic food, service and ambiance! Chef Joe and his wife Ginger have created a wonderful upscale dining experience, right here in Bargersville!
What is one word you'd use to describe yourself? Determined

Elizabeth Wetherholt
Project Administrator for Diamond Glassworks
Family: Married to my wonderful husband Jason, and proud mom of two beautiful daughters Katie and Ali in high school.
What is your favorite LJC moment or lesson to date? I absolutely loved getting to know everyone during the initial retreat!
What is the number one skill you practice that makes you successful? Always striving for excellence! Not a groundbreaking new idea, but always putting in that little bit of extra work makes a difference.
Favorite Quote: "Attitude is the 'little' thing that makes a big difference." - Winston Churchill
Last book you read: The Bible, as well as Drawn By the Current by Jocelyn Green. (And many other books - definitely an avid reader)
Hobbies and interests outside of work: I love Music, movies, books, and cooking! I am also a huge Disney enthusiast! Disney World is my favorite vacation spot!
Something on your bucket list: To visit Europe - so many places I want to go see!
Alumni News
Morgan Harvey, YLA Class of 2022, placed third out of 11 contestants in the Rotary District 6580 (Southern Indiana) Speech Contest and received a prize of $250. She qualified for the district contest by placing first in the Franklin Rotary Club's contest.
Caleb Drake (2017) was promoted to manager of engineering services at Johnson County REMC.
Two LJC Signature Program graduates, Paul Hoffman (2016) and Kimberly Hoffman (2021), participated in a Local Authors event at Clark Pleasant Branch of the Johnson County Public Library.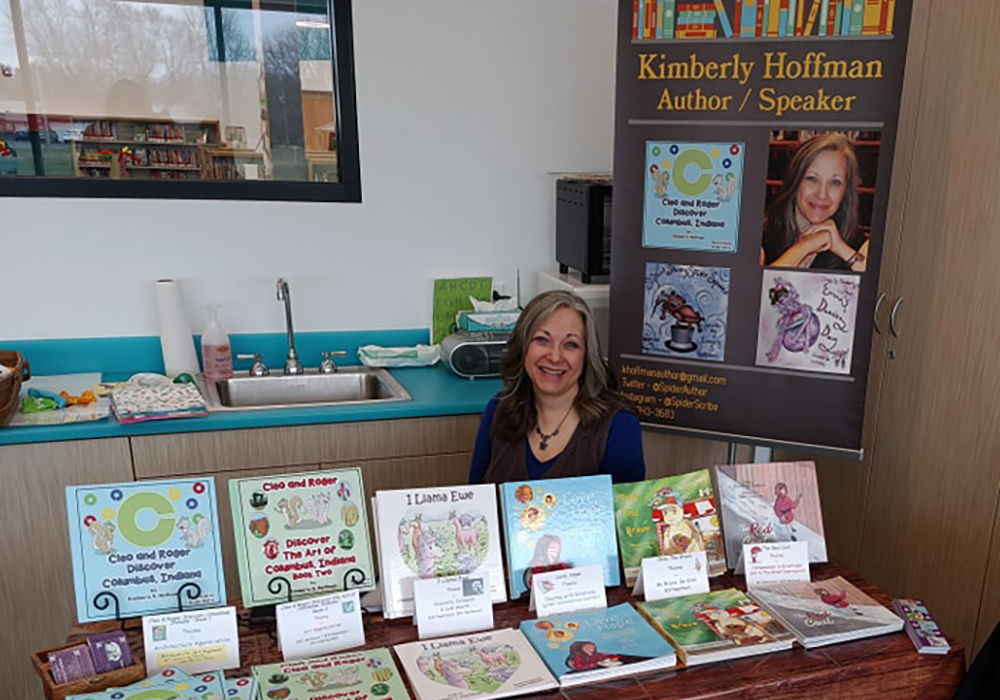 Kimberly Hoffman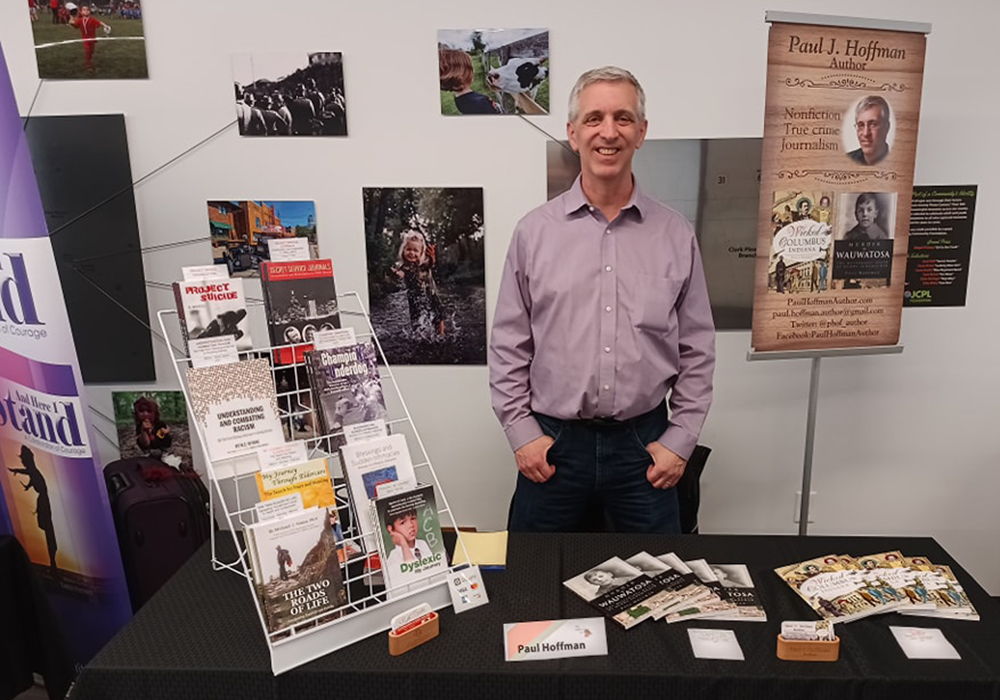 Paul Hoffman

Sunday, April 23
Get Cooking for a Cause
The Give Back Gals are hosting a special cooking event that is fun and tasty - and raises money for LJC.
Cooking for a Cause is scheduled for 2 p.m. Sunday, April 23 at Garment Factory Events Center in Franklin.
The Give Back Gals is a group of philanthropically-minded women who have a passion for Habitat for Humanity of Johnson County, the Johnson County Community Foundation, and Leadership Johnson County.
Each chef team consists of two or three local people who prepare sample-size servings of their favorite dish. Attendees then get to enjoy delicious food and vote on their favorite. Fun prizes are awarded at the end of the event. The chefs can win those prizes by raising the most money or being selected as "people's choice" for having the best food.
Here are the LJC graduates who are participating in the event.
Jason Benson and Brittany Benson
Joe Paulson
Brian Marten
Brad Coy and Jeremy Peters
Caleb Drake
Will Endris and Chris Rynerson
Bryan Epperson
Tricia Ferguson and Nicole Otte
Justin Griggs
Scott Horvath
Joe Waltermann

Support LJC Scholarships
Honor Your Inspirational Leaders
Who has helped you be a better leader? Have there been one or more people that helped you believe in yourself?
We know that there has been someone special who said you could accomplish great things. Maybe it was a coach, a boss, a family member or a friend. Perhaps it was an LJC classmate or instructor.
We want you to consider making a scholarship donation in the name of the person who inspired you to be a better leader. Together, we can pay it forward to lots of other leaders to become part of Leadership Johnson County.
How to Contribute
Click on the button.
Indicate who your gift is honoring in the comments section.
If you have your honoree's mailing address, put that in the comment section too and we will notify them that they are being honored.
Thank you for helping us honor leaders with your scholarship donations. We will list all of these tributes in a future newsletter.
Matching Dollars Available
The great news is that we have a matching situation provided by Elect Steve Barnett and A.W.E. Wealth Management of Raymond James. Please thank Mayor Barnett and Bryan Epperson and his team when you see them. Every dollar you donate is matched up to $4,000.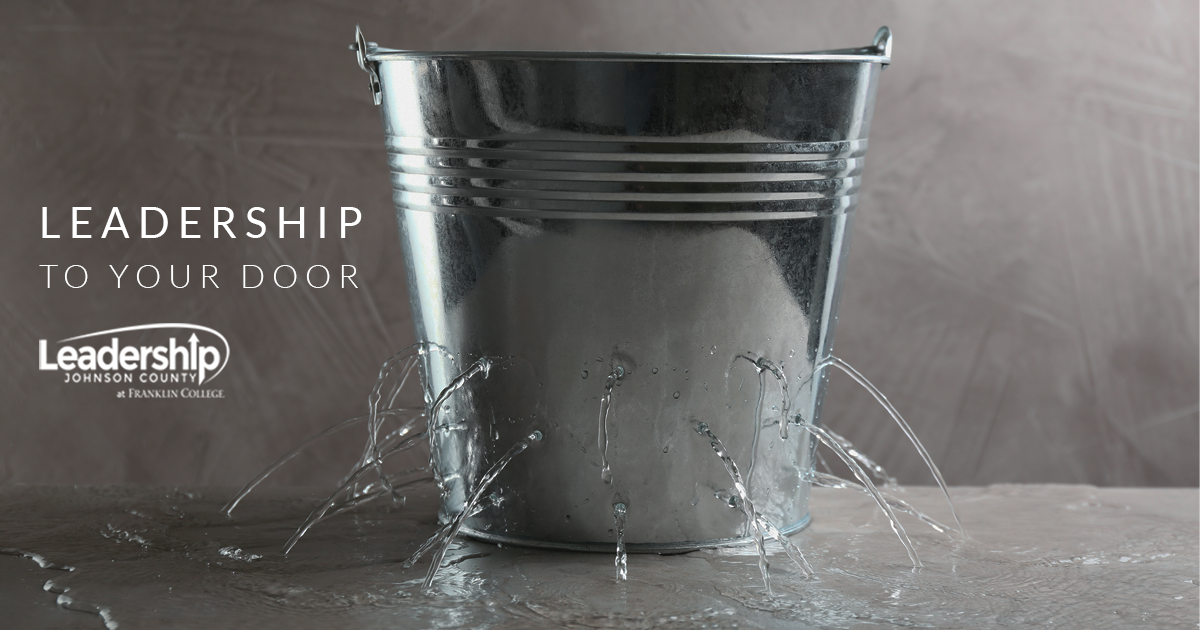 Plug the Hole
In Your Employee Bucket
Did you know that 58 percent of resigning employees cited difficulties with their manager and the workplace culture?
This type of turnover alone cost US employers more than $223 billion during the past five years.
Our Leadership to Your Door workshops can help you address these economic threats to your business or organization. We have a team of content experts that will deliver the training to your team, in your setting and around your schedule.