Impact Our Community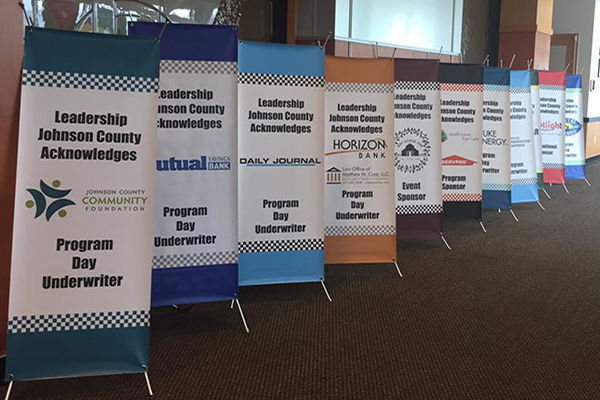 Since our inception, companies and individuals have generously supported our class retreats, program days and special events.
If you or your business or organization would like to help underwrite one of our program days or events, please click below or call 317.738. 8264.
Innovation Catalyst
Elba L. and Gene Portteus Branigin Foundation
Edward Jones - Kurt Schletzer
Endress+Hauser Inc
First Merchants Charitable Foundation
Franklin College
Johnson County Community Foundation
Johnson County REMC
Johnson Memorial Health
NSK
Old National Bank
Approved Mortgage, A Winterwood Group
Barn at Bay Horse Inn
Center Grove Icon
City of Franklin
Clever Dogs Media Inc
Crystal Springs Grain, LLC - Brian Marten
Daily Journal
Duke Energy Indiana
First Merchants Bank
Hilliard Lyons - Lyman Snyder and Brenda Mullins
Indiana Funeral Care and Crematory
Johnson County Development Corporation

Midwest Communications Group, LLC.
Monarch Beverage Company
Mutual Savings Bank
Myers for Mayor
PNC Bank
S & A Group
The Phoenix Group
Vectren
Williams Barrett & Wilkowski, LLP
William "Bill" Barrett
Bloom Bank
Bose McKinney & Evans
Caterpillar Reman Powertrain Indiana
Compass Insurance & Real Estate Services
Brad & Angela Coy
Duke Homes Inc
Fletcher Chrysler Dodge Jeep Ram - Franklin
Horizon Bank
Indiana American Water
Jarvis Enterprises - Mike Jarvis
Johnson Gray & Johnson
Law Offices of Matthew Cree LLC
Marshmallow Monkey
MBP Catering
Bob and Bonnie Pribush
Pridgeon & Clay
Production Handling Systems Inc
Ray Skillman Auto Center
School Smiles
Spotlight Strategies
Vino Villa