Cultivate, Develop Citizens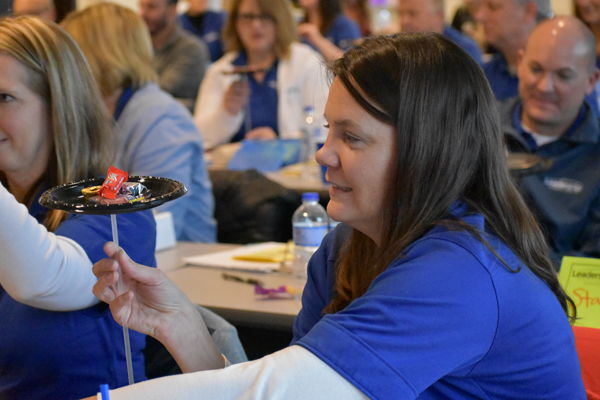 Our core is a 10-month program composed of one-day leadership forums designed to train and strengthen 21st century leaders.
Each phase of our program focuses on our core mission of "cultivating and developing informed and involved citizens working to make the community better."
Overview
LJC Signature Program participants will:
Discuss and practice leadership theory, team building, collaborative problem solving and group dynamics.

Participate in program days dedicated to a better understanding of local agriculture, infrastructure, media, quality of life, service organizations, economic development and government.

Tour local farms, businesses, industries, government and historical landmarks.

Network and meet leaders throughout Johnson County.

Participate in the Myers-Briggs Type Indicator workshop.

Take a historical driving tour of Johnson County.
LJC Signature Program participants gain:
In-depth knowledge and understanding of Johnson County's rich history, current challenges and opportunities.

Preparation to become more engaged citizens.

Greater reach and influence in the community through a network of LJC graduates.

An increase in your business's awareness of your community.

Better understanding of Johnson County's non-profit and service organizations.

Enhanced self-awareness and help in developing personal leadership skills.

Experiential learning opportunities.

Better understanding of group dynamics.

More skill at engaging stakeholders in collaborative efforts.

Increased project management skills.

Improved creativity.

Development of communication and public speaking skills.

Participation Requirements
Leadership Johnson County participants must:
Attend a Friday and Saturday class retreat in early September (not an overnight stay).

Attend 10 days (8 a.m. to 5 p.m.) of leadership programming on the second Wednesday of each month from October through May.

Maintain regular attendance with a maximum of 16 hours of excused absence to meet graduation requirements.

Be involved in a community service project completed outside of the program days.

Class Projects
One key component of the Leadership Johnson County experience is the completion of a community project. The class is divided into groups who work together to address opportunities and challenges in our community.
The projects vary each year, but the goals of engaging in creative problem solving through collaboration remain the same.