Partners Making an Impact
These individuals and companies generously support our programs and operations so that we may cultivate leadership within our community.
Innovation Catalyst
$10,000+
Elba L. and Gene Portteus Branigin Foundation
Johnson County Community Foundation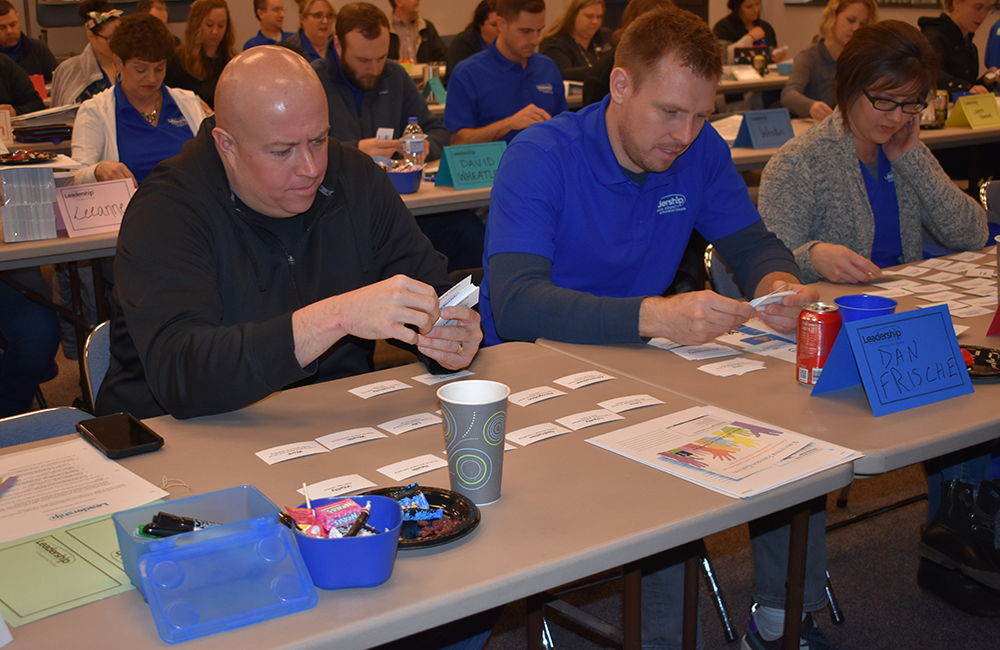 Innovation Catalyst
$10,000+
Elba L. and Gene Portteus Branigin Foundation
Johnson County Community Foundation
Loyal Altruist
$5,000 to $9,999
Carpenter Realtors
Endress+Hauser
JC REMC
Johnson Memorial Health
NSK
The Phoenix Group/Falcon Manufacturing
Esteemed Visionaries
$2,000 to $4,999
A.W. E. Investment Management of Raymond James
William "Bill" Barrett
Campbell Shuck Insurance
CenterPoint Energy
City of Franklin
Clever Dogs Media
Compass Pointe CPAs, LLP
CrossRoad Engineers, P.C.
Crystal Spring Grain, LLC - Brian Marten
Diamond Glassworks – Dave Lessaris
Elect Steve Barnett – City of Franklin
First Class Catering

First Merchants Bank
Horizon Bank
Indiana Funeral Care
Indiana Realty Pros
Johnson Gray & Johnson
Kovacs Enterprises
Lake City Bank
Main and Madison Market Café
Mark Myers for Mayor
Modern Woodmen
Mutual Savings Bank
PNC Bank
Williams Barrett & Wilkowski, LLP
Distinguished Donors
$1,000 to $1,999
Byron Bayne Memorial Scholarship
Brad and Angela Coy
Duke Energy
Fidelity Charitable Gift Fund
First Financial Bank
Fletcher Chrysler Dodge Jeep Ram
Janna Long
Jarvis Enterprises - Mike Jarvis
Jobea Trefny
JP Parker Flowers
Lancer Associates Architecture

Locke Trucking, Inc.

MIBOR Realtor Association
Mid-American Health – School Smiles
Pat Sherman
Promise Advisory Group
Raymond James
Renaissance Charitable Foundation, Inc.
Smythe & Co Real Estate
South Grove Eye Care
Stock Yards Bank and Trust
Team Stiles – Coldwell Banker
John and Jill Venter
Michael Waddick and Tandy Shuck
Sustaining Contributor
$500 - $999
Ron Allen and Talene Shuck
Bargersville Wellness
Barrett & Associates Insurance Group
Brent Lollar
Carol Naragon
Chamberlin & Taylor, LLP
Compass Park
Darci Fosnot
Dave and Tomi Lessaris
Dugan Air
Eli Lilly and Company
Grace United Methodist Church
Greenwood Christian Church
Jack and Sandy Laugle
Jeff and Sharon Beck

John and Jill Venter

Mallow Run Winery
MVP National Title
McCarty Mulch
Messer Construction
Mike Jarvis
PAX
Peter and Carolyn Goerner
Radwell International
Spotlight Strategies
Steve and Donna Jones – in honor of Andrew Jones
Steve and Donna Jones – in honor of Dave Lessaris
Steve and Donna Jones – in honor of Donna Jones
Surface Experts of Central Indiana
Women in Leadership Fund
Yard Signs – Tessa Key
Generous Benefactor
$250 - $499
Adam and Damesia Treibic
Amanda Conklin
Amanda Stevenson-Holmes
April Reamsnyder
Architectural Glass and Metal Co., Inc.
Asher Conveying, LLC
Bargersville Town and Utilities
Benefield and Buss
Blue Iris Optometry
BPO Elks Lodge #1818
Carolyn Hobson
Charities Aid Foundation of America
Chicago's Pizza
Class of 2019
Class of 2020
Curt and Stephanie Brough
Dana Taylor
Ella Casper
Greg and Marvelle Ilko

Greene Crop Consulting, Inc.
Huddleston & Huddleston
Jason and Brittany Benson
Judy Phillippe
Julie Gahimer
Kimberly Clark – Indiana Farm Bureau Insurance
Leugers Insurance
Lisa Lintner
Lisa Woods
McAdams & Griffith Investments of Raymond James
Rowgowski Consulting, Inc.
Shari Krutulis
Sherwin-Williams – Franklin
Steve Tames
Stock Yards Bank and Trust
Think Solutions
Tim Thurston
Todd Cook Agency
Whiteland Community High School
Guiding Partners
$100 - $249
Bonnie Pribush
Brandi Kirkendall
Brandyn and Tricia Ferguson
Brenda Roach
Bruce Jones
Bryan Epperson
Caleb and Rachel Drake
Chris Beil
Christopher and Elizabeth Leeth
Darin Hoggatt
Don Cummings and Toni Traylor
Dustin Huddleston
Ebbie Crawford
Jason and Elizabeth Wetherholt
Jeff Beck
Jennifer Giddens
Katy Cavaleri
Kim Roberts
Kyle Stiens
Maki Lingenfelter
Matt and Lisa Kress
Matt Smarelli – in honor of Jeremy Peters
Melissa Duke
Patty Homoky
Peak Stone
PNC Financial – Renee Linville matching
Renee Linville
Rob Daniels
Shadi Lilly
Susan Ostermeier
Talene Shuck – in honor of Tandy Shuck
Tandy Shuck – in honor of Bonnie Pribush
Teena Catt
Thurston Consulting LLC
Tom and Emily Brodbeck
Tony and Michelle Badolato
Tyler Knight
Winding Roads Counseling, LLC
TRAINING LEADERS SINCE 1994
Annual Report 2022
We are pleased to present our 2022 annual report made possible through a generous donation from the Elba L. & Gene Portteus Branigin Foundation. This wonderful community organization has been a steadfast supporter of LJC and many other worthy organizations within our community. We are grateful for the impact they make in and around Johnson County.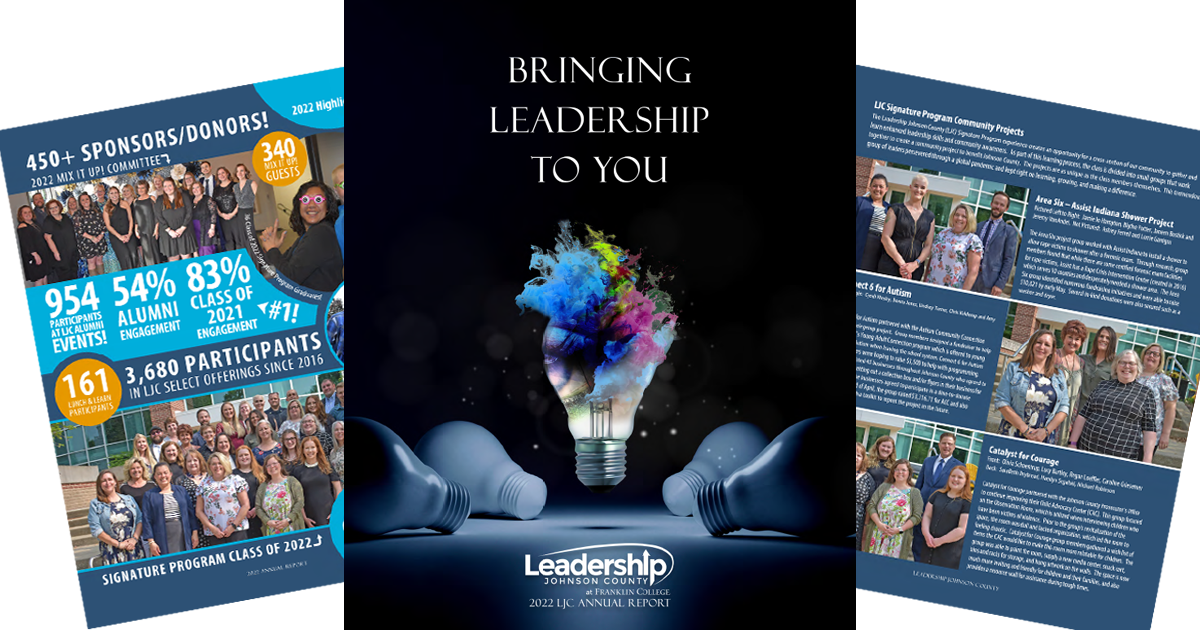 LJC is a group of people who care deeply about making the communities we live, work, and play in better, and through collaboration, we are doing just that. I grew personally and professionally, gained lifelong friends, and made valuable connections with people through LJC.
Former LJC Board President, Johnson County Community Foundation, Class of 2010