WORKSHOPS AT YOUR WORKPLACE
Expertise. Convenience.
Enjoy the same professional training we offer at Franklin College. We have a team of content experts that will deliver the training to your team, in your setting and around your schedule. We offer half- and full-day workshops during times convenient for you. Review our list of offerings and contact us today for more information.
Our clients include:
Adult & Child Health
Aspire Economic Development + Chamber Alliance
B2S Life Sciences
Bargersville Wellness
Better Business Bureau Serving Central Indiana
Center Grove School Corporation
Endress+Hauser
Enterprise Holdings, Indiana Group
Franklin College Athletic Department GRIZLead Program
Franklin Education Connection First Scholars
Indiana Economic Development Association (IDEA)
Indianapolis Theological Seminary
Johnson County Public Library
Johnson County REMC
Leadership Bloomington-Monroe County
Leadership Hendricks County
Leadership Shelby County
Leadership Southern Indiana
MIBOR
Mid-State Athletic Conference Student Advisory Council
NCAA
NSK
Radwell International
Shafter Leadership Academy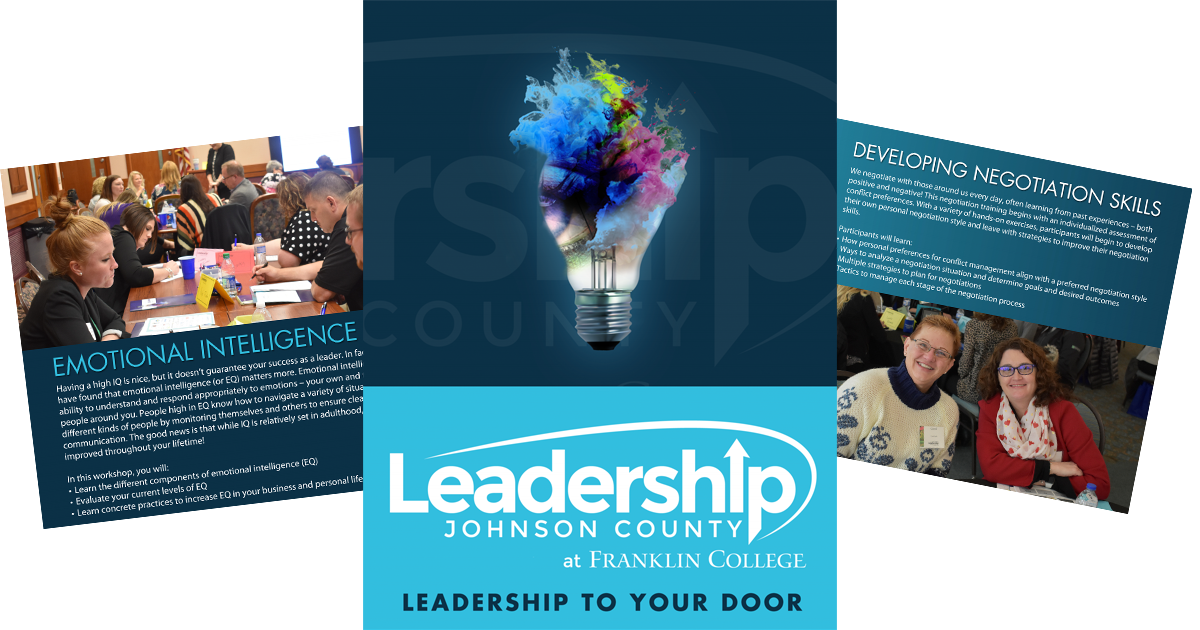 We have received great feedback from the participants in the trainings. They did exactly as we had hoped in reiterating concepts by hearing them from a third party such that they will be memorable and actionable in the future.
The Mid-State Athletic Conference allowed individual athletes to listen to two speakers who unlocked a different perspective to athletics. From understanding emotional intelligence to deciphering when and where it is appropriate to self-promote, the speakers created an environment in which each student-athlete felt comfortable in order to gain knowledge that will improve the conference. The dynamic mix of each speaker, athlete and athletic director encompassed all the Mid-State Conference stands for, allowing each participant to better understand athletics beyond the confines of their respective playing field.
Senior, Mooresville High School
The student-athletes and athletic administrators at the Mid-State Athletic Conference Student Advisory Council Leadership Summit really enjoyed their day with LJC and Franklin College. The content was meaningful and instructors were spot on with their delivery of the topics.
Director of Athletics, Franklin Community High School
The best part of the day was the multiple activities. Very interactive.... I appreciated the clarity in communication, breaking down the subject matter. And the interaction with the speaker.
Change Management and Crisis Leadership, Leadership Bloomington-Monroe County
The content was great, relevant and timely... I highly recommend this. Understanding how my actions can be perceived and be diminishing without me realizing, I hope will help me to correct some behaviors in certain situations... Great even energy, great presenter. Very comfortable setting... In-depth and personal conversation... Great for team building... Excellent skills-building... Lots of good examples and some fresh perspectives... Informative and interactive... Practical steps to improve...
about Leadership to Your Door