The Nest Event Center
400 Byrd Way
Greenwood, IN 46142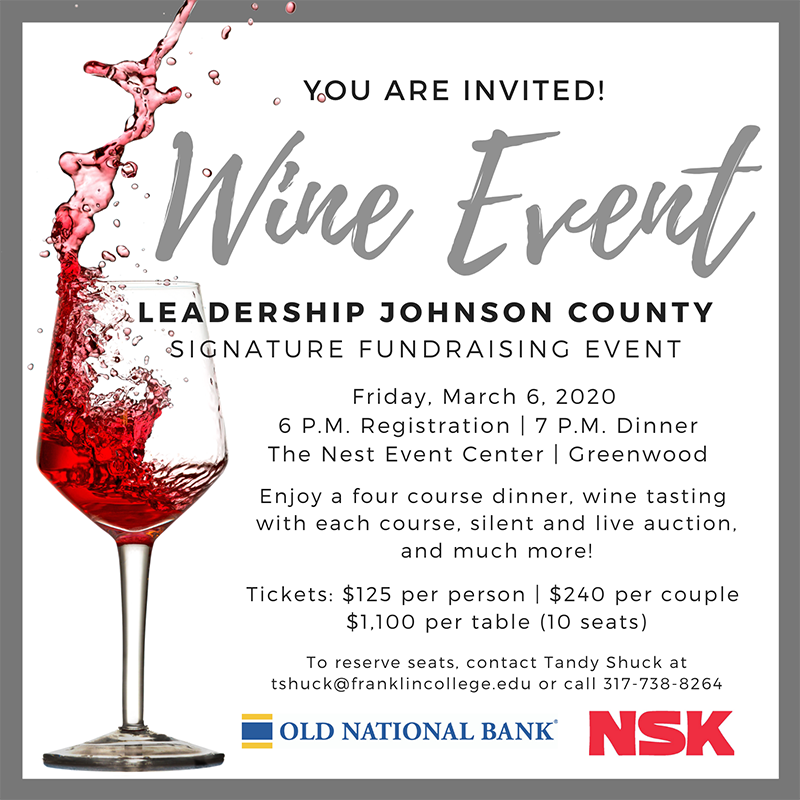 For the third year, we will host our event at The Nest Event Center in Greenwood, Indiana. We hope you will join us on Friday, March 6, 2020.
Our event attracts more attendees each year, bringing together more than 375 leaders from central Indiana to share a night of food paired with delicious wine, great conversation, and a shared goal of supporting an organization dedicated to cultivating and developing informed and involved citizens working to make our community better.
Over our history, LJC has brought quality leadership training to Johnson County. Tuition for these programs only covers a fraction of the cost and our wine event will help us to continue to facilitate professional development opportunities for years to come.
As you know, the success of any event such as this depends on the generosity of friends and businesses to donate exciting and unique silent and live auction items. We hope LJC can count on you to donate a tax-deductible item.
Please join us as we help leaders throughout Indiana become more knowledgeable about community, more skilled in collaboration, and more ready to make a difference in our world.
A reception begins at 6 p.m., followed by dinner at 7 p.m. Tickets are $125 each, $240 per couple or $1,100 for a table of 10.
For more information or to make reservations, contact Tandy Shuck at 317.738.8264 or tshuck@franklincollege.edu.