True Colors
Color has been used to shape and describe our lives, our habits, our values, and our feelings throughout the ages. Through guided activities, participants will discover their True Colors Personality Color Spectrum and learn how it affects their personal and professional relationships.
Using colors as a metaphor, participants will be able to:
Discover the qualities and characteristics of his/her personality
Gain an awareness and appreciation of personality differences
Learn to identify the strengths, values, joys, needs and stressors associated with each personality
Sponsors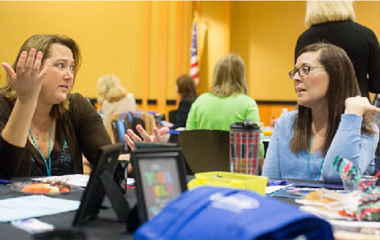 Date:
October 7, 2021
Time:
9 a.m. - Noon
Cost:
$49 per person for LJC and Franklin College alumni, Franklin, Aspire and Indy Chamber members; $59 per person, general public
Location:
Johnson County Armory
325 Minuteman Way
Franklin, Indiana
About the Facilitator
Tamara Moore is the Director of Performance Excellence at Johnson Memorial Health ( JMH). She holds a Master's in Public Health from IU Bloomington and a BA in Community Health from the University of Northern Iowa.
Tamara has more than 23 years of experience in training and facilitation and is a certified facilitator in True Colors (basic and advanced applications), Crucial Conversations, and Crucial Accountability. She has been with JMH for more than 20 years and holds credentials as a Certified Professional in Healthcare Quality (CPHQ) and is Certified in Healthcare Compliance (CHC).