Six Thinking Hats
We all wear different hats. Employee, supervisor, parent, child, spouse, friend. But too often when it comes to making decisions, we tend to wear the same "hat" all the time. We may rely too much on our emotions. Or we may be looking for the downside too frequently. Or, conversely, we're so focused on the positive, we can't be neutral. The Six Thinking Hats process can streamline decision making and ensure that you and your team are looking at all angles of a solution – which leads to better outcomes.
As a result of this workshop, participants will:
Be able to identify the six hat colors and their roles in decision-making
Be able to implement the concepts when making decisions
Sponsors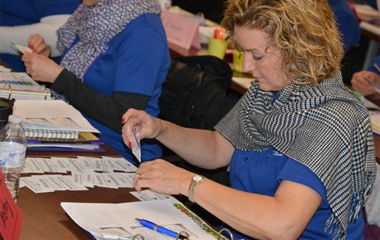 Date:
December 10, 2021
Time:
9 a.m. - Noon
Cost:
$49 per person for LJC and Franklin College alumni, Franklin, Aspire and Indy Chamber members; $59 per person, general public
Location:
Greenwood Christian Church
2045 Averitt Road
Greenwood, Indiana 46143
About the Facilitator
Bea Northcott is the LJC Select Series Workshops Coordinator and has an extensive background in facilitation, strategic planning, nonprofit board and staff development, program/project implementation, and training. A graduate of Butler University with a bachelor's degree in Journalism and French, she has a master's degree in Human Resources Management from Kennedy-Western University and is a graduate of LJC Class of 1997.