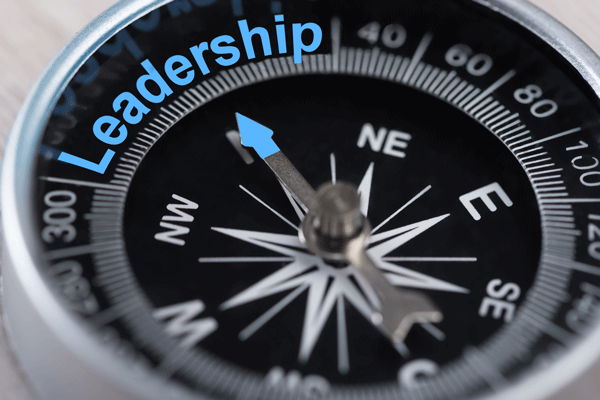 The public is invited to join us for LJC 2.1. These sessions are designed to feature leadership skills and community awareness training that is new and different from the Signature Program. Programs will include guest speakers, panels and experiential learning.

Participants have the option to sign up for individual months or to register for the complete series at a discounted price. The registration is transferrable so if organizations and/or individuals cannot attend a session, a different participant could attend in their place.
Registration deadline is one-week prior to class. This leadership training is open to the public. Contact ktaylor@franklincollege.edu for additional information.
Upcoming Session
Thursday, December 14, 2017 – Placemaking, Innovation and Decision Making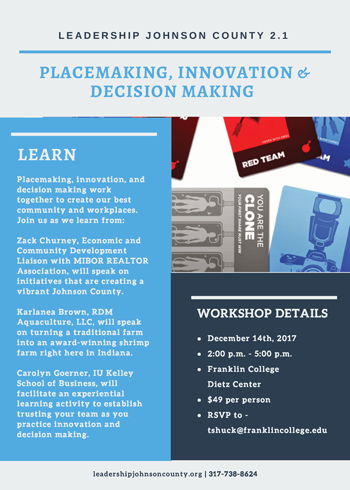 Leadership Johnson County is excited to host our next LJC 2.1 workshop on Thursday, December 14 from 2 to 5 p.m. Join us as we weave a collective thread through the importance of innovation and decision making in how we create place within our community and our workplace. With one of the country's lowest unemployment rates, Indiana businesses are struggling to recruit and retain top talent in their organizations.
Learn what initiatives Johnson County is implementing to create a more vibrant landscape for residents to live, work and play. A vibrant Johnson County benefits everyone by increasing the potential employee pool, tax-base, and providing increased opportunity for quality of life to all residents.
Next we will hear from an innovator who turned a traditional farm into an award-winning shrimp farm, right here in Indiana. Sometimes innovation isn't creating a new something, but looking at ways to change or rework something that you are already doing.
Finally, we will use a popular board game to practice our decision making and team building skills with facilitator Carolyn Goerner. You won't want to miss this opportunity to get outside your comfort zone and create a more innovative workshop and community.
RSVP to Tandy at tshuck@franklincollege.edu or call 317-738-8624 for more information. Cost to attend this workshop is $49 per person.
Future Sessions
Wednesday, February 21, 2018 – DISC Personality Inventory
Wednesday, April 25, 2018 – Government and Media
All sessions are 2 to 5 p.m.
Cost
$49 per person, per session or $175 per person for all sessions
Co-Sponsors
Crystal Springs, Daily Journal, Endress+Hauser, JCDC, Horizon, WBW, Matt Cree