How We Help, Learn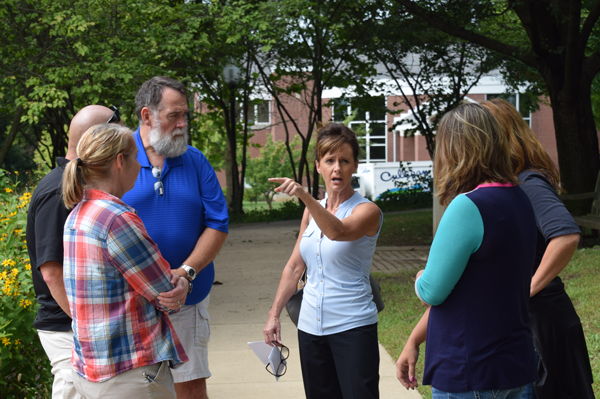 One key component of the Leadership Johnson County experience is the completion of a community project. The class is divided into groups who work together to address opportunities and challenges in our community.

The projects vary each year, but the goals of engaging in creative problem solving through collaboration remain the same.
Many of these projects have continued beyond the class and have made notable impact.

Projects for 2018
CASA Crusaders
CASA Crusaders worked to bring awareness and funds to CASA (Court Appointed Special Advocates) by participating in Rock the Block. Each member of the group had a passion for helping children in the community and after learning the wait list of children needing an advocate was over 200, they partnered with CASA Director, Tammi Hickman to help educate community members. The group organized the kids run at Rock the Block, giving them the opportunity to talk with numerous community members about volunteering for CASA. Additionally, the group raised over $2,500 for the organization.
Give Me a Sign
Give Me a Sign noticed a need for a comprehensive wayfinding system in Johnson County. After researching, they narrowed the scope of their project to focus on the Town of Bargersville. They worked with Ken Kosky, Director of Tourism for Johnson County and with the Johnson County Geographic Information System Department. The team connected these two groups who had previously not worked together. The Johnson County Convention and Visitors Bureau has funds designated for wayfinding signs and the Geographical Information System can link waypoints to community websites and to map locations for the wayfinding signs in Bargersville at little to no cost.
Oh, SNAP! Making Healthy Choices

With a desire to ensure that all people in Johnson County have access to healthy food, this group worked with Discover Downtown Franklin and the State of Indiana to get the Franklin Farmer's Market approved to accept Supplemental Nutrition Assistance Program (SNAP) benefits. Additionally, the group had a booth at the Franklin Farmer's Market to educate local families about making healthy choices with locally accessible food and resources.
The Golden Apple

Decreased school funding leaves many teachers paying for items in the classroom from their own pockets. The Golden Apple project group worked to facilitate partnerships between local churches and Indian Creek schools. The team researched how churches could fill in gaps left by restrictions placed on parent/teacher organizations. After attending a local clergy meeting to facilitate dialogue, the group is happy to report that three new partnerships were created between churches and the school.
WEEDS – Working, Educating, Empowering, Developing by Serving
Hunger and nutrition are problems that face every community. WEEDS worked with Needham Elementary/Webb Elementary to repurpose an overgrown garden in to a multi-purpose community garden featuring 10 raised beds, a pavilion, and pathways from both schools to the location. A seven-member advisory board was formed to guide the direction of the garden which will serve to provide new learning opportunities for students, provide healthy foods for the school cafeteria, and provide fresh food to pantries and programs.