How We Help, Learn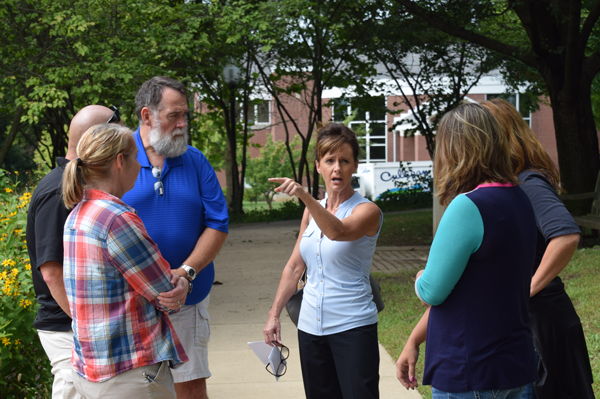 One key component of the Leadership Johnson County experience is the completion of a community project. The class is divided into groups who work together to address opportunities and challenges in our community.

The projects vary each year, but the goals of engaging in creative problem solving through collaboration remain the same.
Many of these projects have continued beyond the class and have made notable impact.

Projects for 2018
CASA Crusaders
Give Me a Sign
Oh, SNAP! Making Healthy Choices
The Golden Apple
WEEDS – Working, Educating, Empowering, Developing by Serving
Projects for 2017
Alert Johnson County
The Team wanted a project that would have a significant and lasting impact on Johnson County and its residents.
The Team selected several objectives:
Create a map with siren locations, siren buffer areas, population densities, and shelter locations

Determine where additional sirens are needed for current and future populations

Work with the JCEMA to submit for grant approval to install another siren

Work with the 11 fire departments to host an event to raise tornado safety awareness.

With the help of resources external to The Team, a map was created. Planning for future sirens in optimal locations will become easier with the use of this map. The map will be maintained by JCEMA with continued support and information from the fire departments, including siren and shelter additions.

Blessings Boxes
The Team's mission was to install Blessings Boxes so neighbors could help reduce food insecurity in their local community.
The Food for Thought team built and installed four Blessing Boxes throughout Johnson County. These boxes will supplement existing food pantries by providing emergency food 24 hours per day. The theme for the box is "take what you need, give what you can".
This allows those that need something to eat to simply stop by and take what they need. It also allows those that can give something to stop by and help stock the Blessing Box. The team partnered with non-profit organizations to host and maintain the Blessing Boxes. The boxes also list the phone numbers of the United Way helpline, Suicide Prevention hotline, and 211 hotline for those that would like additional help.

Minors with Manners
The Team shared a passion for helping children realize their full potential. They saw a need to make children feel important, while giving them the skills to be confident in an unfamiliar setting.
Initially, the Team wanted to partner with the Adult and Child organization. They asked for their assistance in selecting children in grades 4 through 6 who receive counseling in Johnson County schools. The Team members felt this population would benefit most from our project. They decided to provide a dinner that included an etiquette lesson, so the students would learn while having fun and being well fed.
Sources for Seniors in Johnson County
The Team received $500 through Leadership Johnson County funds and an additional $250 from a sponsor. With this money they were able to secure a website domain for 10 years, purchase images for our website, and purchase postcards and bookmarks for distribution in Johnson County.
They narrowed the scope of what to cover to four primary categories plus an additional resources section. The four primary categories are: (1) Financial, Fraud & Scams; (2) Food Resources; (3) Transportation & Mobility; (4) Home Help. Two members selected each of the four primary areas and collaborated on research and the content to put on the website: www.SeniorsinJoCo.com