Engage In A Life Experience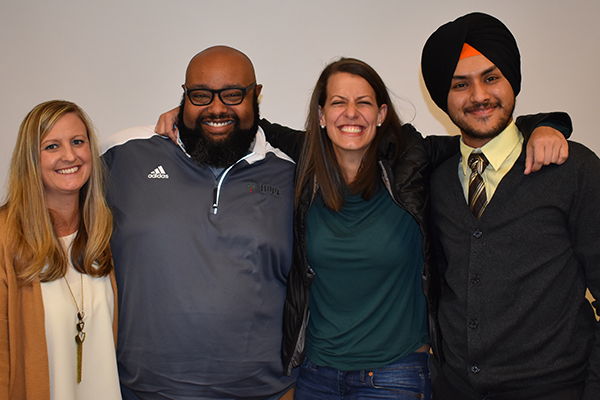 You are welcome to be considered for our program, no matter your experience as a leader. The more diverse views and perspectives in our classes, the better.

People of all stages and walks of life have participated: homemakers, volunteers, professionals, government workers, elected representatives and retirees.
The program has brought together executive directors, community volunteers, CEOs, bank presidents, and farmers in order to discuss the diverse forces that are at work in Johnson County.
Because our classes are so inclusive, discussions are more enlightened, minds more open and leadership skills more developed.
Take the Next Step

Thank you for your interest in Leadership Johnson County. We invite you to apply for this dynamic community leadership program by completing the application in its entirety.
Please note the selection process seeks a cross-section of the community: men and women from different career, social, and cultural backgrounds. An anonymous committee selects members based on their own merits according to the application and the desire for a diverse group.
Eligibility
Any resident of Johnson County

18 years of age or older

Non-residents of Johnson County who have worked or been active in the county for at least two years immediately prior to the time of application

Application Process
Application is available online below

Application is a Google form and must be completed in its entirety. There is not an option to save your work and add additional information. You may make changes to your application after it is submitted but clicking on the response email.

Applications MUST be typed and submitted on-line. Hand-written applications will not be accepted.

All applications must be submitted electronically no later than 11:59 p.m., March 6, 2019 to be considered.

Selection Process
A review committee appointed by the LJC Board of Trustees will select participants based on the COMPLETED application. Your selection into the class is based upon your application. You are encouraged to be DETAILED and use this opportunity to highlight your passions and achievements.

Preference will be given to candidates who could contribute to the overall diversity of the class (cultural, township of residence/work, various type of work experience, age, etc.)

An important factor will be an individual's commitment and interest in serving in the Johnson County community.

There are more applications received than spots available in the class! The application process is highly competitive and we encourage you to take your time when filling out the application. The selection committee may not have spots for excellent candidates with outstanding credentials due to space limitations. The LJC staff and Board of Trustees encourages those candidates who are not selected to re-apply in a subsequent year.

Requirements for Graduation
Participation in the opening retreat is required. The opening retreat is a two-day retreat held on Friday, September 13 and Saturday, September 14, 2019. The retreat is NOT an overnight event, but attendance from 8:00 a.m. to 5:00 p.m. is MANDATORY.

Completion of a community project is required. Each participant must work with a group of classmates to complete a community project. Community projects are completed OUTSIDE of the LJC program days.

Attendance at the program days is required. Participants who miss more than two program days or a total of 16 hours will not be eligible for graduation.
Program Days for the 2019-2020 Class
September 13 and 14
October 9
November 13
December 11
January 8
February 12
March 11
April 8
May 13
Tuition
The cost to participate in the 2019-2020 Leadership Johnson County program is $1,500.00.

Tuition is due in full by September 4, 2019. There are no refunds after this date.

A non-refundable deposit of $250.00 is required at the time of acceptance into the program.

The deposit is included in the full tuition amount.

Scholarships are available for up to approximately 60 percent or $900.00. Scholarship applications are available online or by emailing ktaylor@franklincollege.edu. The scholarship deadline is March 6, 2019.

Payment plans can be arranged.

Credit cards are accepted.

Employers typically sponsor participants and cover part or full tuition. Participants may also pay for the program themselves.
LJC does its best to keep class size to an optimal number and pays attention to diversity as it relates to parameters such as field of employment, gender, cultural background and more. For more information or to answer questions, please contact Kate Taylor at 317.738.8094 or ktaylor@franklincollege.edu.
If you have questions or wish to have an application mailed to you, please contact us at 317.738.8264 or click below and have us email or mail you an application.
If you would like to nominate someone for the program, please let us know by clicking below or calling us at 317.738.8264.