Staying Connected
LJC graduates are the engine behind our growth and success. Stay connected with your fellow alumni and feed the program that you've worked so hard to serve.
Alumni Network Events
Networking Breakfast
Wednesday, November 6
7:00 a.m. to 8:30 a.m.
Don and Dona's Restaurant
188 W. Jefferson Street
Franklin, IN 46131

RSVP
Lisa Kress
317.738.8794
lkress@franklincollege.edu

No cover charge. Just pay for your breakfast.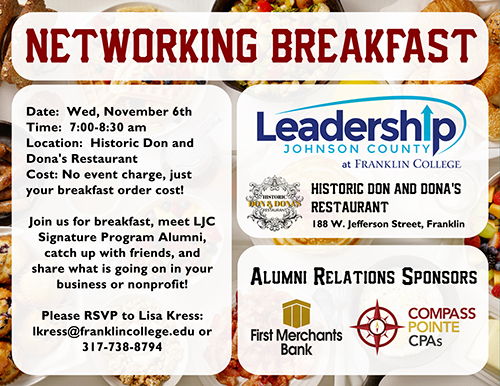 Mocktails & Mingling
Thursday, November 14
Doors Open at 6 p.m.
$10 per person
Franklin College, Dietz Center
Franklin, IN 46131

(located east of the Student Center on Forsyth Street)